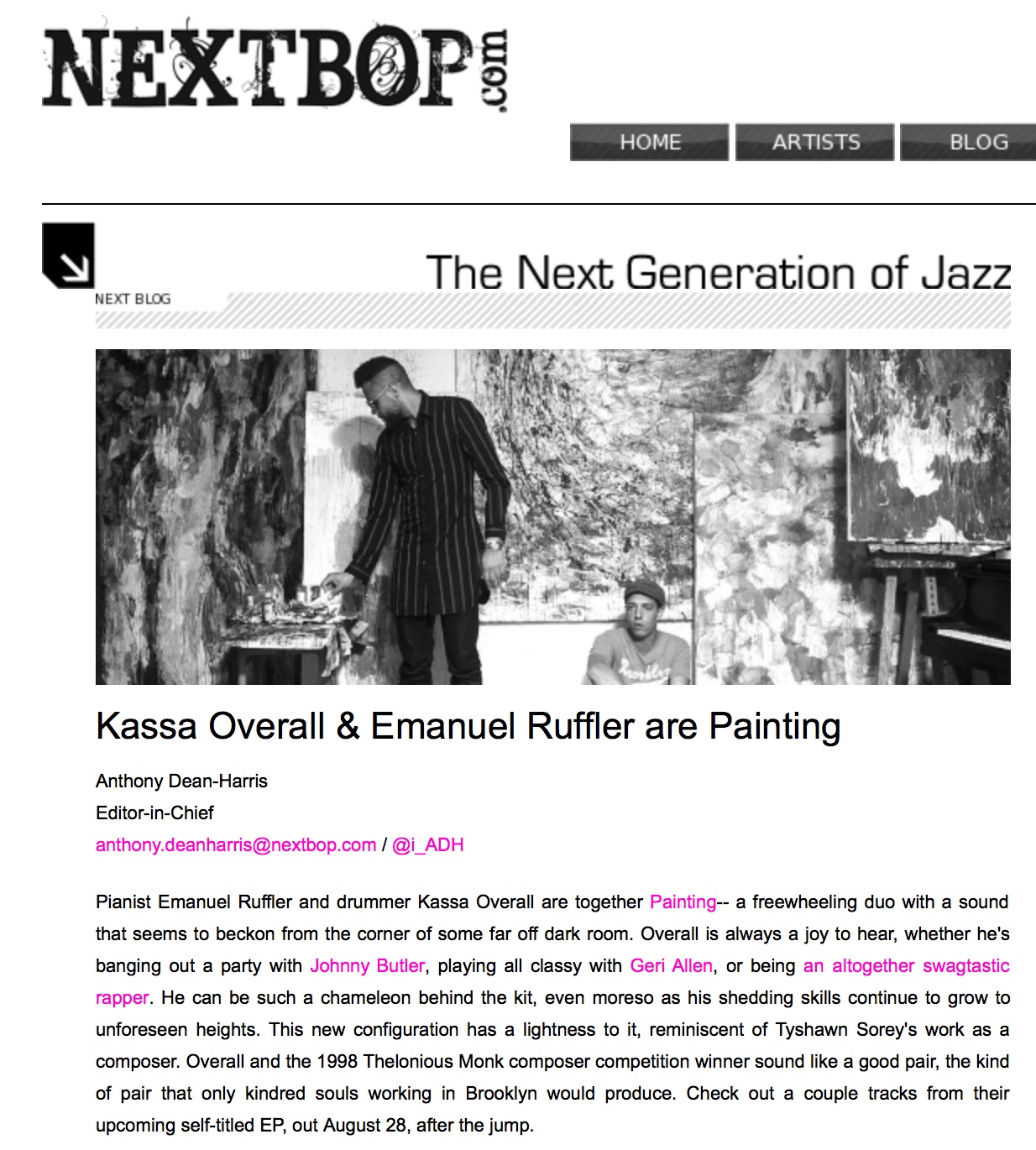 PAINTING - GRAVITY
Duo uses unique compositional technique, building compositions from poems
EP out August 28th on artist-run Rufftone Records, Pre-order now!
Emauel Ruffler and Kassa Overall are Painting --- in every meaning of the word. A group, a process, a work of art. Ruffler and Overall met about 3 years ago, at a gig in a Brooklyn bike store, a suitably unorthodox setting for both musicians. Ruffler and Overall quickly understood that they were kindred spirits, not married to musical conventions of any kind.
Ruffler, a German native who's has been in New York for more than 20 years, arrives at this moment via a wildly varied resume: a grand prize at the Thelonious Monk Composer's Competition; songwriting credit on Me'shell Ndegocello's "Aquarium," co-written by Ruffler with Sabina Scuibba of Brazilian Girls; a collaboration with designer Emanuel Ungaro that ultimately led to Ruffler soundtracking an ad for an Ungaro-produced perfume. All of which gets fed into the blender when Ruffler sits down to collaborate with Overall, who brings his own grid of influences into the room.
Overall came to New York via Seattle and has made outsized strides in a variety of genres -- not that he or Ruffler pay genre lines any heed. From his tutelage with drumming titans Elvin Jones, Billy Higgins and Tootie Heath to his more recent work with Geri Allen and Vijay Iyer, to his collaborations with Das Racist's Kool A.D. and other underground hip-hop artists, Overall maintains a fierce commitment to spiritual uplift and beat-making. As he said of Painting, "my approach to playing on this project is based around the 'less is more' concept. Not only the idea of fewer notes or less rhythm, but also less technique, less judgement, less of a traditional role as a drummer. I find that when one lets go of traditional ideas of what a drummer does, or what a piano player is supposed to do, one can get to a deeper place. an original place."
Where Gravity, the pair's new album, really departs for an original place is in Ruffler's imagistic approach to song form: he maps out his compositions using written tone poems as source material. He started using this technique for his solo piano work and thought Overall might be interested as well. The resulting songs have a unique quiet beauty and narrative arc; less a "conversation" in any jazz sense than the embodiment of a story. Rather than playing off of each other, call-and-response style, Ruffler and Overall move forward, side-by-side, each attempting to stay true to the words that set each tune in motion. "We're almost ignoring each other," says Ruffler with a laugh. He continues, "It could be related to another characteristic of our process: our decision not to create music based on our interaction. In order for this to work, we can't be hearing inside the regular improvisational vocabulary, styles, or the family tree of past creators."
We can hear the orchestration of images at work in the very tune, "Gravity Pushes Me Down While Bubbles Rise to the Top" -- the title taken from the very last line of the the three short written pieces Painting used as inspiration. Overall does most of the pushing at first, as Ruffler provides the bubbles; as the tune progresses it becomes less and less clear who is pushing and who is rising. "Straight Emptiness | Like a Glass Inside a Glass" offers another clear example of words at work. In this short meditation, one can hear how one of Ruffler's teachers, the great jazz composer and drummer Joe Chambers, might have affected his work, as the piano takes on something of a drum-like role, in contrast to Overall's washes of sound.
In the end, the music is wonderfully accessible, regardless of one's familiarity with the words that spawned each tune, or the past creators that inform Ruffler and Overall's style and approach. "I am interested in the whole piano family," says Ruffler, "the entire world of piano." This open-armed approach has generated a warm, inviting improvisational work that the pair call Painting.
To support the release of the album, Ruffler and Overall will be playing a few shows around NYC, though in typically conceptual fashion, rather than playing the tunes straight, these gigs will instead be more like listening party-cum-performances. The two will rework the album via sampling, each playing their parts by "playing the album," reworking the material into yet another new form.
As Overall says about the project, broadly, "We are not attempting to paint a tree, or a person, or anything in particular. We are taking words and ideas, letting those ideas affect us, and expressing them through sound. It is a very energetically raw approach to thought."
Please sign our Mailing List